We've been in Miami for nearly a week now. I know I mentioned that I would be blogging about our road trip down, and while I was visiting, but I just haven't had the time. We've been pulled in every direction by family wanting to see us, and haven't really been able to get much "fun" in. I've said this a million times, that we've got to stop taking our vacations in Miami, because they never really are vacations.
Our road trip down was LONG. Twenty-two hours long to be exact. We knew it would be longer with the baby this time, but nearly twenty-four hours on the road is something we weren't expecting.
Prince Charming surprised me with another Christmas gift, a Garmin GPS, it made the trip so stress free as far as directions were concerned. (I've wanted one of those for nearly an ion, as I'm one of those people who spends her life getting lost.)
We also spent much of the trip hungry. We left Christmas Eve and failed to realize that most of the restaurants would be closed on Christmas. I'd planned on stopping at Wal-mart to get some snacks but we never did. During one of our failed McDonalds' runs I came across this water tower thing. Mo loves to point them out, and this one was like one I've never seen before.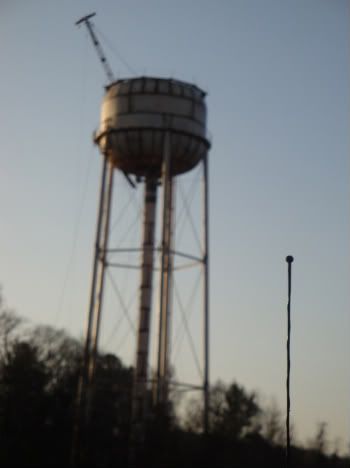 Luckily Mo and Copper slept through much of the trip (a blessing I wasn't expecting from our little guy) however sometime around 11pm on Christmas Eve we had to stop to get a snack – So somewhere in North Carolina a gas station provided sunflower seeds, chips, and Gatorade, by eight o'clock the next morning Mo was famished, and so were the Prince and I. We stopped at 7 McDonalds' all found closed until finally in Georgia somewhere we found a Waffle House open. I ordered us huge breakfasts to go and we ate the heart attacks waiting to happen in less than 10 minutes.
The Waffle House was an adventure unto itself. Jam packed with locals and travelers alike the staff was swamped with orders on the warm and humid Christmas morning. I can't say I won't ever spend another Christmas morning like that, but I will say I don't want to ever again!
It took at good 15 minutes to get my order placed and another 25 to have it delivered while waiting Mo figited, jumped around, couldn't sit still; can you blame him? played with one of his hot wheels cars and I people watched. At the counter sat an older couple who wore Christmas shirts, and socks. I thought this was sooo cute I had to snap their socks. I did it covertly as not to draw attention to my photography.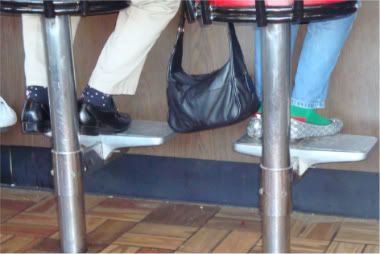 When we finally made it across the Florida border we felt home. Started talking about how much we missed things like palm trees, and the ocean.

We stopped at the first rest stop we came across on I-95, and I kid you not, as I was entering the ladies room, I held the door for like 6 women, not one of them had the courtesy to say thank-you. Yes, I was in Florida. Welcome Home. We still had another seven hours to Miami.
Once we were in Miami we booked it to my husband's BFF's house for a Christmas BBQ. His mom and brother were the only ones besides my sister who knew we were making the trek down. Once we got there, we called his Mom and she came out took Copper and handed him over to his grandfather. Needless to say he was surprised, so much so he started to weep (a bit of alcohol was involved) and his reaction made the trip worth it.
Save
Nicole Olea's love language is communication. She does this best using her keyboard as a freelance copywriter and editor. Creative and resilient with high-level experience in social media management, content creation, and eCommerce marketing, Nicole Olea was a professional volunteer, sharing her skills with various non-profit organizations who paid her in hugs. For the last 20 years, she's lived a quasi-nomadic life, moving across the country and the Atlantic with her active-duty husband and their three kids. She's awkwardly stumbling toward her goal of becoming a saint. She's got God-sized dreams and wants you to have them too!