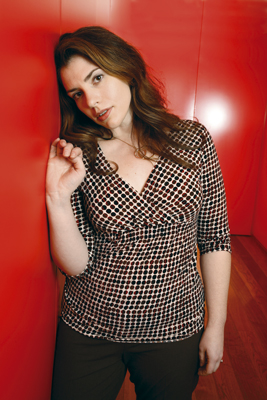 People are still talking about Stephenie Meyer (you see, I'm not the only one) more specifically their blabbing about Midnight Sun. I came across this post on L.A. Rag Mag, which is another celeb blog that is trying to jump on the Perez Hilton train that put me in a foul mood. The fact that I'm even talking about it irks me, mainly because my first impression wasn't a good one. The author's sarcastic tone when discussing her leaked manuscript (which is old news), irritated me especially since it's plain to see that this person isn't a fan – which in and of itself is fine with me, but if you're going to write from a satiric perspective (the whole point of this blog is to "rag") about someone make sure you spell their name right. Idiot.
Yet that's not why I'm writing…
I get annoyed by how much press Stephenie Meyer's religion gets (Google "Stephenie Meyer religion" and you'll see what I mean). Who gives a rat's ass if she's a Mormon? What is the big deal? I'm sure if she were a Catholic such as myself her religion wouldn't be mentioned so much… On second thought maybe it would be. She would have undoubtedly been asked about pedophilia, or whether she believes that priests should be allowed to marry.
Maybe I'm wrong and just in a cantankerous mood, but I don't see the importance, especially since the articles and blog posts I've read that mention her religion always place such an emphasis on it; as if her being a Mormon is a bad thing. I even found one that questioned whether or not she was a racist for Pete's sake!* I'm not stupid, I realize that one's religion especially when it plays a major part in one's life is a big deal, but it's a big deal for the individual.
Obviously I'm annoyed, so I'm going to imagine that the author of this moronic post (which was probably written just so people like me will link to it) is a person who suffers from a lack of belief in the divine. Those are usually the people who feel the need to belittle those of us who do, and who attempt to fill that void by ignorantly ragging on someone else.
*A blog post by author Alisa Valdes-Rodriguez that was in my opinion poorly written and has since I first read it been removed from her site. (Undoubtedly because she realized how asinine she was being.) However you can read a decent post about it here.
Nicole Olea's love language is communication. She does this best using her keyboard as a freelance copywriter and editor. Creative and resilient with high-level experience in social media management, content creation, and eCommerce marketing, Nicole Olea was a professional volunteer, sharing her skills with various non-profit organizations who paid her in hugs. For the last 20 years, she's lived a quasi-nomadic life, moving across the country and the Atlantic with her active-duty husband and their three kids. She's awkwardly stumbling toward her goal of becoming a saint. She's got God-sized dreams and wants you to have them too!